History of Otsego Mutual - A Legacy
Page 2 of 7
Strength Character Service

We've all heard the famous saying "Necessity is the mother of invention." Those of us involved in the insurance business in America need not look far for proof that this time-honored doctrine is true.

While the first mutual fire insurance company was founded in London in 1696, it was not until Benjamin Franklin and several associates founded the Union Fire Company, a firefighting organization, that the idea began to develop in the U.S. It was the success of these firefighting groups which spawned the interest in developing mutual associations for the purpose of providing fire insurance to property owners.

In 1750, Franklin used his Union Fire Company meeting to propose a fund from which losses to members of the company could be paid. The members initially raised $1000. Within two years, Franklin expanded the idea to citizens of Philadelphia and formed The Philadelphia Contributionship for the Insurance of Houses From Loss by Fire. The basic tenets set forth by Franklin's company (inspection of every home to determine construction, occupancy and character of the risk, as well as continual building of policyholder surplus as a safety cushion for insureds) have laid the groundwork for some of the finest mutuals still in existence.

Like the evolution of most great ideas in this country, mutual insurance began to take on great importance. With its growing popularity came the "need" for more efficient and service-oriented companies.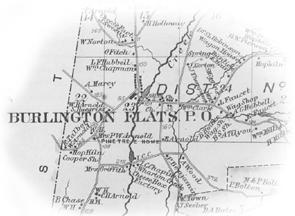 Burlington Flats was named after the Burlington Company of New Jersey, which obtained the land title in 1786. The first settlers arrived in 1790.

This need was clearly evident 100 years ago in Burlington Flats, New York, when a local pioneer and entrepreneur named Silas L. Kelsey suffered a terrible fire loss to his barn. Unsatisfied with the loss adjustment he received from his insurer at the time, Kelsey urged his friend Edgar W. Wright to join him in founding an insurance company at would offer fair rates and claim settlements to the client, while maintaining a strong balance sheet for long-term policyholder security.

Early photos of downtown Burlington Flats around 1920-22.