History of Otsego Mutual - A Legacy continued
Page 3 of 7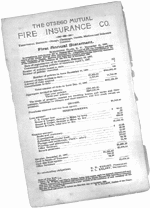 The company's first meeting was held at the hotel of D.A. Dyer on February 18, 1897. The company's bylaws and charter were adopted. By the spring of 1897, a plan emerged. The office was to be housed in a back room of Kelsey's home. Wright was named president of the company, while Kelsey assumed the role of secretary and manager, allowing him to personally secure and service all the company's policyholders.

During the latter half of the 19th century, this scenario played out across America as a period of great expansion in rural wealth gave birth to hundreds of "farm mutuals," many of which are still in business today, but few have attained the success of Otsego Mutual Fire Insurance Company.

| | |
| --- | --- |
| The first location of Otsego Mutual Fire Insurance Company in 1897 was in the back. | This group photo of (from left) Edgar W. Wright, Silas L. Kelsey and Bina Brady was taken in 1909 in the back room office of Kelsey's house. |

When the company's first year came to a close, it had 553 policies in force, generating $4,162.40 in premiums. As only four losses were paid, totaling $1,055.95, and expenses were $1,684.30, the policyholder surplus account was a very respectable $2,478.10.

The company continued to build upon its early successes with Wright serving as president until 1910. At that point,
he and Kelsey reversed roles, having reached over $5 million in coverage in force, from the just over $500,000 developed in their first year in business. Then, with more than 30 agents, Kelsey was able to concentrate on meeting the changing needs of his clients and ensuring the company's future success.

Even though the company became recognized beyond New York State's borders, its roots remained firmly in Burlington Flats, New York. The company's leadership throughout succeeding years remained as solid as it was under Edgar Wright and Silas Kelsey, as did the ties that bound the company to the village of Burlington Flats.

By 1927, led by Jasper D. Fitch, president; Edgar Wright, secretary' and Silas Kelsey's daughter Mary Kelsey Hume, treasurer, the company built a new headquarters to mark its 30th anniversary. The two-story brick-faced building was the pride of the town. No sooner was the building complete when hard times hit the United States and Burlington Flats. As the economy tightened, people were not able to buy as much insurance and even though the insurance in force approached $20 million, the growth of the company was moderating.


By 1927, it was evident that more space would be needed.
A new building was built to celebrate the 30th anniversary.

Otsego Mutual Fire Insurance Company moved to this second
location in 1927.