History of Otsego Mutual - The Ward Hinds Years
Page 4 of 7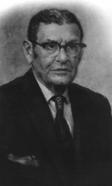 In the midst of these difficult times emerged a personality who played an integral part in the longevity of the company. Ward E. Hinds, a lifelong resident of Burlington Flats and grandson-in-law of Silas Kelsey, had joined Otsego Mutual as an "office boy" on December 5, 1924 in what evolved into a 50-year career with the company.

In 1926, he advanced to special agent. As special agent, Hinds helped develop and nurture the company's agency plant. Company lore is full of stories of the development of certain agency relationships, including stories of "specials," as they were often referred to, traveling together by railroad to visit agencies.

Shortly thereafter, following the sudden death of Edgar Wright in 1929, Hinds was elected secretary, thus starting a new management era at Otsego.

Newspaper reports of Hinds' career credit him with overcoming the financial strain following his appointment, saying, "He diligently and with long hours built up the company's assets to nearly $4 million and surplus to policyholders to over $2.5 million."

By this time, Otsego Mutual, bolstered by its conservative philosophies laid down by its founders and subsequent management, had survived World War I and the Great Depression. Having led the company successfully through the Depression, Hinds was well-suited to handle the arduous times brought on by World War II.

While neither of these wars was fought on American soil, their impact still threatened many insurers. In addition to certain shortages of labor and materials, the international divide created by the wars resulted in a severe contraction in global reinsurance markets as American companies had to cease doing business with reinsurers in certain European nations. Through hard work and perseverance, Otsego Mutual pulled through these trials relatively unscathed, thanks to the staff and guidance of Ward Hinds.

In addition to his work for Otsego Mutual, Hinds did much to bolster the community, including serving as a director of the New York Central Mutual Fire Insurance Company, chairing the Regional Board of the National Commercial bank and Trust Company, treasurer of the Burlington Flats Cemetery Association, and member of the Hartwick College Citizens Board and Ziyara Shrine. He also served as president of the Otsego County Cooperative Board for several terms.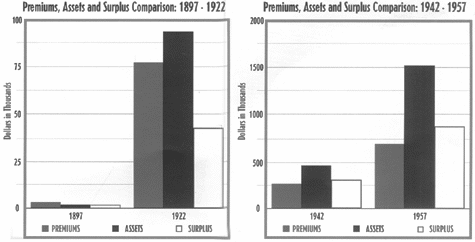 These two charts show the growth rate of Otsego Mutual during the first 50 years.
Note the dollar increments between the two charts.