History of Otsego Mutual - Patrick A. Burke's Tenure
Page 6 of 7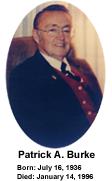 One of Burke's initial changes involved the revamping of Otsego's marketing territory to include only New York State. The company had done business in other states, but felt it had been obtaining adverse selection.

When Burke assumed the leadership role, Otsego's premium writings were $1.7 million, assets were $3.7 million and policyholder surplus totaled $2.34 million. While the company was in an admirable financial position (and already had attained its coveted A+ rating from A.M. Best Co.) at the onset of his career with the company, Burke quickly developed a reputation for using common sense and excellent instincts to refute industry trends toward uncontrolled growth. His original goal when joining Otsego Mutual was "to make the policyholder surplus grow faster than the premium writings," a goal most companies could never aspire to, much less accomplish. To the surprise and envy of many colleagues, this goal was achieved and continues to proliferate.

In March 1977, Hinds retired and Burke was elected president. At the same time, Albert W. Akulonis, who had been an executive at Preferred Mutual, joined Otsego as secretary and production supervisor. Akulonis had worked extensively in the Downstate New York region and parlayed his strengths there to embed Otsego's products into an impressive agency force, many of whose members continue to represent the company.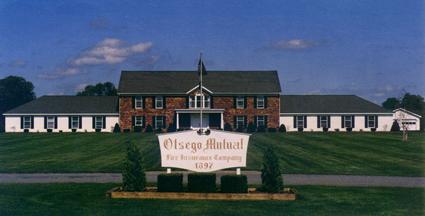 Marked by impressive growth and the continued achievement of growing policyholder surplus faster than premium writings, Burke's tenure left perhaps a bigger legacy–his focus on improving the lives and working conditions of Otsego's employees. During this time, a comprehensive benefit plan, including pension, savings plan, health insurance and reduced and flexible workweek took effect, as well as construction of a new, more ergonomic home office in Burlington Flats. His devotion to family values was admired and appreciated by employees, as evidenced by Otsego's staff averaging 18 years of experience with the company.

Beyond his offices in Burlington Flats, Burke also worked diligently to serve others. In nearby Edmeston where he lived, he was a member of the Edmeston Rotary, Recreation Association and Farmers Lodge, president of its library board, and treasurer of its fire department for many years. He also served as a board member of the Central New York Association of the Blind. His tireless efforts proved vital in the industry, too. Once active in the Air Force Reserves' Fire and Rescue Division, Burke later became highly involved in arson investigation and was instrumental in the formation of one of the first Arson Task Forces in the state during Governor Hugh Carey's administration.

In the 1970s, the company posted underwriting profits in eight of the decade's 10 years. In 1976, with direct premium writings of $2.4 million, assets of $4.6 million and nearly $3 million in surplus, the company began what has turned into an impressive string of 21 consecutive years with an underwriting profit. As a result, Otsego Mutual continued to prosper, showing steady growth in surplus and income.

The decade of the 1980s saw the company continue to hone its niche in providing the fast and courteous service in personal lines coverage. Except for a brief stint insuring homes in Florida, Otsego concentrated on writing both replacement cost and actual cash value Homeowners, Dwelling Fire and Renter's insurance coverage throughout New York State. This plan was highly successful in the 1980s as written premiums expanded from $4.8 million to $9.1 million, assets grew from $6.7 million to $22.4 million, and policyholder surplus increased 440 percent from $4.1 million to $18.2 million!

With Burke's goal being accomplished and company management eyeing retirement, finding the next era of managers became a priority. Burke did not have to look far, as his oldest child, Kelley, had been with Otsego since 1979 and had worked in various positions including data processing manager and liability claims manager. A 1984 graduate of Utica College of Syracuse University, she was elected vice president in 1988. Later that year, she earned her Chartered Property and Casualty Underwriter (CPCU) designation, and went on to receive her M.B.A. from Syracuse University in 1996.

In 1991, Akulonis retired. His replacement, Terry M. Gras, had joined the company in 1988 as a field representative and underwriter. Gras, also a graduate of Utica College, received an M.S. degree in management science from Binghamton University in 1990 and the CPCU designation in 1995.

On January 14, 1996, just one year before Otsego Mutual reached its centennial, fate intervened and Patrick Burke died at the age of 59. In very special ways, professional peers remember this man of great intellect and humor "as one of the most outstanding and unique men of our business," and a "success at life, both on the home and business fronts."

At the time of Burke's passing, Otsego's policy holder surplus stood at $28.3 million, while premium writings stood at $10.5 million. Not only had Burke achieved his goal, but he grew surplus twice as fast as the writings!